Media Section
Print Media
Please click on each link to go to the article you wish to read. You can return to this page either by hitting the back button on your browser of by clicking on the link at the bottom of each article.
Union Leader - Smart spokeswoman: Flynn needs to tell whole truth about killing. January 25, 2008
.
Seacoastonline.com: Fowler family speaks about shooter Flynn's request
.
Rita Cosby 'Live and Direct' This interview was aired Oct.5, 2005 on MSNBC. Ms. Cosby interviewed Pamela, Dr. Eleanor Pam and Rob Fowler.
.
'Media Circus' atmosphere aggravated case. This article was written by Craig Lyons shortly after the trial was over.
.
'Pamela Smart Talks' This article, authored by Amy Wallace, a Portsmouth Herald staff writer was published, Sunday July 30, 2000.
.
'Rob Fowler Speaks' These comments were posts on an internet web site by Rob Fowler, the brother of Raymond Fowler, one of the 4 young men charged in connection with the murder of Gregg Smart. Rob Fowler was well acquainted with those who were involved in his killing, including Billy Flynn and Cecilia Pierce; he also knows their families. He spent the day after the murder with "the boys" and has much to say about their character, behavior and guilt. On the other hand, he has never met Pamela Smart and thus, has no personal agenda in defending her.
.
'Pamela Smart Trial Still Resonates' This is an article was authored by Melanie Asmar, a staff writer for the Concord Monitor Online and published April 15, 2007.
.
'Council Rejects Smart Pardon Hearing' This article was written as an Associated Press Report and was published in the Hampton Union, July 15, 2005. The subject was Pamela's request for a commutation of sentence from the Governor of Hew Hampshire.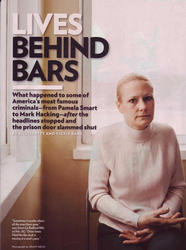 Click on the picture above to view the People Magazine article
Seacoast online article by Patrick Cronin
.
A violation behind prison walls? Rita Cosby Live and Direct.